Doctors
Dr William R G Hynds

MA MB BChir MRCGP DCH DRCOG
More Info

Will trained at Cambridge,
qualifying in 1993. He has worked extensively as a locum doctor all over Cornwall before moving to Australia to sample General Practice outside the NHS.

He returned to the UK in 2007 and joined the Roseland Surgeries in May 2008. Child health, dermatology, minor surgery and musculoskeletal medicine are amongst his special interests but he remains keen to be seen as a generalist; he is also an accredited GP trainer and on the Cornwall LMC Executive. He is married to Terese and they have two teenage children.
Dr Nicholas Marsh
Dr Terese M Tubman

BMed MRCGP DFFP
More Info

Terese trained at Newcastle University, Australia, qualifying in 1995. She completed her training in General Practice on the Roseland.

Since then she has worked as a GP in Cornwall and Australia and joined the practice in 2010. She enjoys all areas of General Practice with interests in women's health ,dermatology and mental health.

Terese represents the practice in Arbennek, our local Primary Care Network. She is married to Will and they have two teenage children.
Dr Simon Knowles
Nursing Team
Jessica Lord

Nurse
More Info

Jess qualified in 2012, training at Bristol UWE. She started her career working in Oncology then moved on to Cardiology where she stayed for 3 years.

Jess is our Lead Practice Nurse and joined the Roseland Surgeries in 2016, completing her degree module in Clinical Skills for General Practice in 2017. Since she has been with us, Jess has completed advanced training modules in General Practice Nursing, Asthma/COPD, Women's Health and in November 2021, achieved a BSc in Professional Development in Health and Social Care. Jess will be starting her Independent Nurse Prescribing in September 2022
Zara Thomas

Nurse
More Info

Zara joined us in late 2022 having worked at Clays Surgery as one of their team of Practice Nurses. Zara works 3 days a week and has taken on responsibility of our diabetic patients and some patients will already have met her as she undertakes joint clinics with our Diabetes Specialist Nurse, Jo, who is based at the Royal Cornwall Hospital.
Health Care Assistant and Phlebotomist
Our nurses are ably supported by our Healthcare Assistant, Vanessa Wilson.
Vanessa will see you for blood tests, blood pressure checks, health checks and she is able to undertake flu vaccinations to support the Practice Nurses.
Jade Thatcher is our trained in-house phlebotomist and will see you for all your blood test appointments. Jade also works in reception and dispensary so is a great all-rounder!
Practice Management Team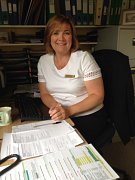 Nicola Davies

Practice Manager
More Info

Nicola joined the surgery at the beginning of May 2015. She has 36 years' experience in Primary Care, the last 26 in Practice Management, and previously worked as a Practice Manager in Gloucestershire. Nicola also has an MA in Medical Law and Ethics and is a Speaker for a training company, providing help and support for new-in-post Practice Managers. Nicola is responsible for the general running of the three practices, looking after clinicians, patients and staff. If you need to discuss any of the care you receive at any of our surgeries with her, please contact her directly at her base at Portscatho Surgery.
Samantha Burnett

Assistant Practice Manager
More Info

Sam joined the surgery in 2001 as a Scanner and progressed to Medical Secretary and Officer Supervisor, before her current role as Assistance Practice Manager in 2015. Sam provides support to Nicola for the running of the three practices, which includes the staff rota, and overseeing the administrative processes which are essential to the smooth running of the surgeries.
Emily Poulter

Practice Management Trainee
More Info

Emily joined the surgery in July 2023 and works closely with Nicola and Sam to support the day to day running of the surgeries whilst completing the Practice Management Trainee course with Kernow Health Training Hub. This programme is one of the first to be developed in the UK and has been designed to ensure the stability of future generations of Practice Managers in Primary Care. Emily started her career in Primary Care at a local practice as a Medical Secretary, before becoming their Communications Lead and developing an interest for Practice Management.
Secretarial Support
We are ably supported behind the scenes by our secretary, Kathy Vokes. We also have admin support from Christine Toms.
Dispensary Staff
Dispensary Staff
More Info

Our dispensing staff are always busy trying to sort out your medication requests. The team comprises Bryony King (Dispensary Manager), Eve Poore, Selina Milling, Mary Symons, Mary Clifton, Jade Thatcher and Natalie Avent. We require five working days' notice for repeat medication requests with a slightly longer turnaround for our branch sites – this is to enable us to not only prepare the medication, but organise delivery to the branch sites. Please do allow a couple of extra days if you need to collect your medication from either Tregony or St Mawes.
Reception Staff
Reception Staff
More Info

Front of house manning the phones and directing the doctors – our team comprises Bev, Selina, Mary S., James, Jade, Natalie, Marji, Sarah and Darren. Some of our reception team are also dispensary trained staff.

We will always do our best to accommodate your wishes if at all possible.
Physiotherapy
Suzy Hamilton

Physiotherapist
More Info

Suzy Hamilton has been working at the practice since 2006. She runs clinics at Portscatho on 2 days a week when she assesses and treats a large range of musculoskeletal conditions. A referral from one of the practice doctors is required before an appointment can be made.